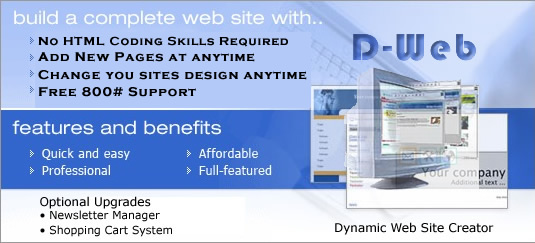 Web Global Net developed D-Web because it found that for many clients other Open Source CMS applications they considered were too complicated to implement and very confusing to manage. Our clients wanted something that was easy to use, very simple to manage, and allowed them to create their own unique look and feel with the ability to update their site and add new pages at anytime.
The D-Web Web Site Creator & Content Management System provides all of these capabilities and more, in addition to unparralled customer support.
Who can use the D-Web Web Site Creator & Content Management System Overview
D-Web was designed for small to mid-sized organizations and businesses that want the ability to management their web content on-line without the need to use Web Editing Applications such as Adobe Dreamweaver or Microsoft Front Page.
Types of organization currently using the D-Web CMS:
Small Businesses (1-25 Employees)
Mid Sized Businesses (26-200 Employees)
School Organizations
Youth Sports Programs
Youth Clubs
Non-Profit Organizations
Alumni Groups
Intranet Informational Centers

D-Web Content Management Features
The D-Web Content Management System is so simple to use and manage that there are only 3 administrative pages that you need to use in order to manage your site and its contents.

The Page List
The Page Edit
The Site Settings

The D-Web CMS is also expandable so you can add new functionality or features to your site at any time.

Nothing else to learn!

The D-Web CMS is mySQL/php database driven so your site loads fast:

Only 3 Adminstrative Pages to manage.
All Menus are dynamically generated.
Control the Order of your menus
Multiple Page Addition/Editing /Deletion.
Change Layout Graphics at anytime
Control over 85 Layout features with our dynamic CSS controls - Click here for further info.
Full On-Line page editing -
Click here to see full capabilites
Upload Documents for users to download
Upload Graphics
Email Contact Form included
Full hosted site - with unlimited email addresses
Add additional modules at anytime
Add additional thrid party applications at anytime

D-Web CMS comes with 30 days of free 800 # support and unlimited on-line support at all times.

1 -Site Page Listing

Click Image to see full size

The Page Listing section shows you which pages are active and in what order they appear in the menu area. You can reorder the Menu bar at anytime. You can also create up to 3 new pages at one time.

2 - Page Edit Area

Click Image to see full size

The Page Edit section is where you add or edit each individual page for your site or link to other application within your site. To learn more about the Page Eding features please -
Click here to see full capabilites

3 - Site Settings

Click Image to see full size

The Site Settings section is used to upload new layout graphics to change or modify the look and feel of your site. Click on the D-Web Sites Tab above to see samples of client sites using the D-Web CMS application an how they have customized the look and feel of their sites.

D-Web Modules
The D-Web Content Management System is a module based appliation which means that your sites functionality can be expanded at any time. All Modules use the same basic database structure as the D-Web CMS, so upgrading your site is fast and easy to do.
The following modules are currently available:
Paypal-Kart
Newsletters Manager
The following Modules are currently under development:
Contact Manager
Reseller Manager
Customization Services
Web Global Net offers the following D-Web additional services:
Header - Footer - Background Graphic Design
CSS Modification - changing the sites color scheme or background areas within the D-Web page.
Page Layout Modification - Changing the layout from the basic 3 row - inline 3 column, D-Web Page Structure
Custom Form creation
Custom application creation*
Web Hosting
Domain Name Registration +
Our standard hourly rate is $55 per hour for these services. Please contact us for a firm quote.
* rate may be higher depending on the complexity of the application itself.
+ Domain Name registration is free for 1 Domain Name if Web Global Net provides web hosting services.
Customer Support
The D-Web Content Management System provides the following support.
First 30 days after purchase:
Free installation on any Unix based Apache Web Server with PHP 5.x and mySQL 4.3.x & phpmyAdmin installed
Free 800# support
Half Hour Phone Training Session
Lifetime:
*Incremental updates are updates within the same Version # - i.e. Version 1.0 to Version 1.3 etc..
Major updates are considered any update the raises the version # by a full # - i.e. Version 1 to Version 2.
Web Global Net may not necessarily charge for Major version updates but reserves the right to do so.
Sites Using the D-Web CMS
As you can see D-Web allows you to customize the look and feel of your site to match your design needs.

Coldwell Banker Real Estate Broker


Alumni Manager

Ames Rifle & Pistol Club

Stoughton High Alumni


BH - Interiors

Monadnock Mountaineers
Youth Football
Order Form